e-book:  Kindle version
e-book: ePub version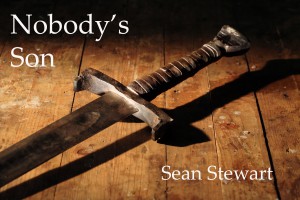 His life was a fairy tale come true.
The son of a commoner, Shielder's Mark had broken the spell of the Red Keep, which had plagued the land for a thousand years. Now he was the kingdom's greatest hero, able to name whatever reward he wanted from King Astin IV.
But the magic sword he claimed at Red Keep is taken from him. Life at the king's court is more complicated than he expected. And as for marrying the beautiful princess–well, happily ever after is harder than it looks.
Aurora Award, Best Canadian Science Fiction or Fantasy novel published in English
Canadian Library Association Award, Best Young Adult Novel of the Year
"Nobody's Son takes fantasy fiction beyond the quest tale into a larger, darker, more affecting landscape, in which wishes fulfilled have unforeseen consequences and 'happily ever after' is only the beginning. Its characters are warmly human, and the tale of Shielder's Mark is both haunted and haunting. Some books seem to fade as soon as you put them down. This one doesn't."—Robert Charles Wilson, author of The Harvest and A Bridge of Years.
« Back to Sean's novels